Interactive Online Art Classes
We have brought our art classes online!
We have worked to bring most of our classes online through the Zoom program in a new website we created and have run classes with current students successfully. The Zoom app runs on computers, laptops, tablets and phones, is easy to use and many people are already familiar with it.
About the classes
About the classes we are offering: Our goal is to create engaging curriculum that doesn't require special materials - rather using simple on-hand household items.
The online classes for kids and adults have been successful. For our Young child class we encourage an adult to create along side and if there is a younger sibling they may join in, too.
How it works
When you register for a class we will set you up an account for you on the online school website artstreamstudios.com/school where you can find specific information information and the video link for your class.
We also have set up a gallery to upload photos of your artwork to share with us and the class.
If you are not sure if your device will run the zoom software - here is a link to test the program and connection – when you click on the link it will bring you to zoom.us and prompt you to download and install a little program to connect to the test class. When the Zoom app is started it will just show "waiting for the host to start", but then you know that are ready to go and may quit the Zoom app for now.
---
We hope you'll join us in one of our class. Relax with art and boost your creativity!

We appreciate your support as always, especially during this crisis which affects us all.
ONLINE ART CLASSES Schedule
ANd SIGN UP HERE
BOOKS On Sale
Consider supporting us by buying one of Susan's Art Lab Book • now on sale with free shipping (US only)
Self-guided online courses
We additionally offer self-guided courses online in Painting, Watercolor, Mixed Media and Monoprinting right here: Susanschwake.com/class
ART CLASSES for KIDS • TEENS • ADULTS
Join our art classes in painting, drawing, mixed media, clay and more.
About our classes
Most classes are divided into six-week sessions to allow plenty of time for student exploration of the medium in use and completion of work. New lessons each week all year long - no repeats - join anytime!
If you have any questions about which is the right class for you or your children please give us a call at 603.516.8500.
Art Together WORKSHOPS
Art exploration for a child and their favorite adult
Art Together is a series of exciting new workshops at artstream. We will dive into an art process with a different media each month and freely create individual and/or collaborative works. Once a month on Saturday mornings. [more]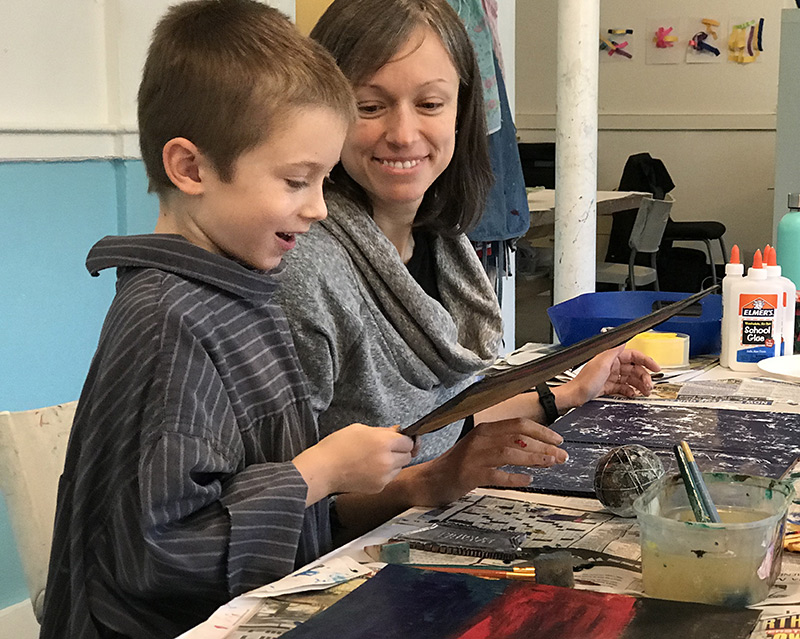 Connect with us
In the Studio at
20 Front Street, Rollinsford NH 03869
603.516.8500 · call us
info@artstreamstudios.com
MON, TUE, THU 4-8 / by appointment
Sign up for our newsletter
Gift Certificates
We offer Gift Certificates in any amount for any of our classes. We can send it via mail or electronically. Just give us a call 603-516-8500 or email us info@artstreamstudios.com.
Sign up for our newsletter
Susan's Art Lab books
If you would like more artsy goodness and want to support the studio, consider purchasing one of our books (more info) and we'll ship it to you for free (US only). Susan has written seven book about making art with different book publishers, several translated into different languages. All books feature fun art projects with instructions and lots of photos to go at your own pace.
Currently we have these books in stock and on sale:
40 new creative mixed media adventures for children (and adults who dare) inspired by nature and by contemporary artists. $24.95 $20.00
Follow-up to the best-selling Art Lab for Kids, with 52 new projects! Art Lab for Kids: Express Yourself is a fun collection of art activities that encourage children to create freely, using their own thoughts and experiences as a guide. Young artists are encouraged to discover their style, document their thoughts, and build confidence in their unique perspective.
$22.99 $20.00
Playful projects for preschoolers (Abridged version of Art Lab for Little Kids) $12.99 $10.00
52 creative art projects for kids to do on their own - using paper, nature, recyclables, paint, found objects and everyday materials. $16.95 $15.00
Also available at your favorite bookstores or at amazon.



Online courses
Watercolor
Watercolor I: Florals and Abstract
Read more ...
---
Printmaking
Start with monoprinting: It's fun! It's easy - most materials you probably have on hand! Explore your creative side!
Read more...
---
Painting / Mixed Media
Painting for beginners and beyond. Mixed Media I and II.
Read more...