WOrkshops
Mixed Media Painting with Photographs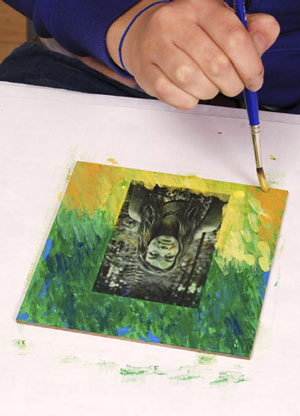 Bring a personal touch to your mixed media paintings with this class. Beginners will create beautiful paintings and advanced painters will find something new with these methods.
Bring four or five photos of your own to be copied (the original is not harmed) and learn three simple, repeatable methods of transferring them into a mixed media painting!
Absolute beginners encouraged and all materials are included! Students will go home with a finished painting and a repeatable skill to use over and over again! Bring a bag lunch.
Saturday March 25, 11-2 pm, $90 SIGN UP
---
Make your own Clay Platter!
A Family Workshop for Adults or Children with an Adult.
We'll teach you how to create our own serving platter from clay. We'll teach you three different surface design techniques and you will chose any or all to use to finish your platter.
Work will bee fired when dry and ready for pickup within two weeks. Adults and children (6+) with an adult are welcome!
Saturday April 8, 10-12:30 pm, $50 includes all materials and firings SIGN UP
---
Explore Mixed Media Painting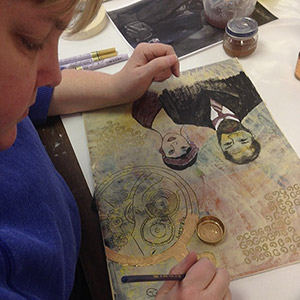 During this workshop we will explore 20 different techniques that you can use to create paintings that are uniquely you. This workshop will jumpstart your paintings and draw out your own style.
There are plenty of repeatable tips and tricks for creating meaningful paintings for absolute beginners and those who already paint. The emphasis is on FUN processes while creating confidence and making color work for you.
Bring a snack and two 16x20 canvases; all other materials are provided.
Saturday April 22, 10-3 pm, $135 SIGN UP
Online classes
Can't get to our studios?
We also offer art classes online at susanschwake.com/class:
Watercolor
Watercolor I: Florals and Abstract
Read more ...
---
Printmaking
Start with monoprinting: It's fun! It's easy - most materials you probably have on hand! Explore your creative side!
Read more...
---
Painting / Mixed Media
Painting for beginners and beyond. Mixed Media I and II.
Read more...
Susan's Books
ART CAMP
Susan's newest book - now available at artstream, at your favorite bookstore or online.
52 creative art projects for kids to do on their own - using paper, nature, recyclables, paint, found objects and everyday materials.
ART FOR ALL SEASONS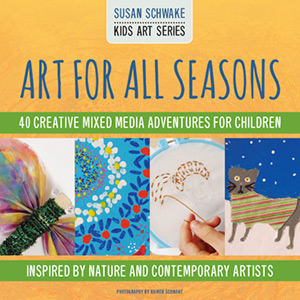 40 new creative mixed media adventures for children (and adults who dare) inspired by nature and by contemporary artists. [more info]
Published by Two Little Birds Books
Art for All Seasons is available at artstream or online.
Art Labs for Kids and everyone else!
Available at susanschwake.com, your favorite bookstores or at amazon.